D Wizzle doesn't just know sports. He knows music too. Who was telling everyone about Nelly 3 months before he became a household name? Cash Money and Mannie Fresh?Master P? We can go on and on. D Wizzle that's who!!
Here is my interview with IBU. IBU is short for "Inspired by U." This R and B group consists of Tommy, Jonathan, and Mike. They are from the city that brought you R. Kelly and Twista, Chicago. These 3 guys can not only sing but they dance and write their own songs also. I caught up with IBU after they came back from Austin, Texas for a live performance. Expect big things from them in the future and hopefully you guys will support talented artists like IBU!! Check them out at
http://www.youtube.com/user/IBUMUSIC
or at their website
http://www.ibumusic.com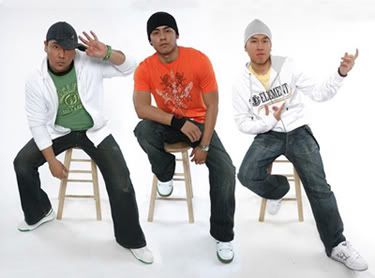 You guys just did a live performance In Austin,Texas. Austin is known for its live music and shows. How was that and what did you think of Austin?
Mike: Our trip to Austin was a quick one. We spent less than 24 hours there. We just went there to do the live webcast and we didn't really get to go around. As soon as we got there and checked into our hotel, we rushed to sound check, and did the show. After the show and the little party for the cast and crew, we went back to the hotel, got 3 hours of sleep and flew back to Chicago.
What are your favorite places that you have visited so far while performing?
Jonathan: It all depends on how much time we spend in a place. New York was fun because it never sleeps, Tampa was exciting as we were able to go jet-skiing in nearby Clearwater, San Francisco was memorable as we did a New Year's Eve party at the Grand Hyatt, and yes, Des Moines! People are so friendly in Des Moines! The fans made it very memorable too!
Tell me about the struggles of being Asian American music artists in this industry.
Tommy: It's undeniable that the mainstream music industry still has to put an Asian American artist out there. The Chicago Tribune did a piece about that with us. Record labels are reluctant to try something new. But it's changing fast. Maybe in this decade it will happen. As far as we're concerned, we don't make that fact as a hindrance to us. We don't make it as an excuse not to try harder. We don't even think about it. We just continue to find ways to improve our singing and performances.

"I Can't Get Over You" by IBU

What music artists would you like to work with in the future?
Jonathan: Just about anyone in R&B and Urban music. Justin Timberlake, Usher, Brian McKnight, Boyz II Men. The list goes on!
I really like the song "Hard Life. Tell me how that song came about.
"HARD LIFE" Live Performance
Tommy: We did this song for a benefit concert we did for UNICEF, right after the Asian Tsunami. We wanted an appropriate song for the show. Inspiration for it actually comes from our own observation of things around us. Anyway, it was a memorable show. We shared the stage with Jennifer Hudson, Jordan Segundo and Jocelyn Enriquez.
You guys have a huge fan base in Chicago. Do the local radio stations show you guys love also? And what other cities are showing you guys love?
Jonathan: We don't know exactly where the concentration of our fans are. It seems like they're all over. Chicago on the other hand is our home base so they get to see us perform a lot. We had some radio play in Chicago but not that much. We were # 6 on Hot 97.7 in the bay and # 3 of the top 30 songs for the year in South Carolina. It's hard to keep track of these things.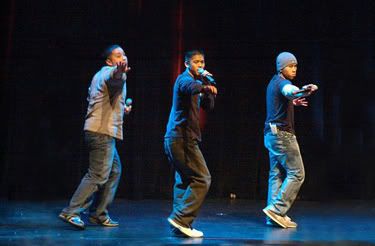 Who are your favorite sports teams?
Tommy: We're from Chicago, so that would be The Bears, The Bulls, Chicago Cubs and of course the White Sox, who gave us the opportunity to sing before 42,000 people 12 times!
Wow, 12 times! That is very cool. How do you guys enjoy that experience?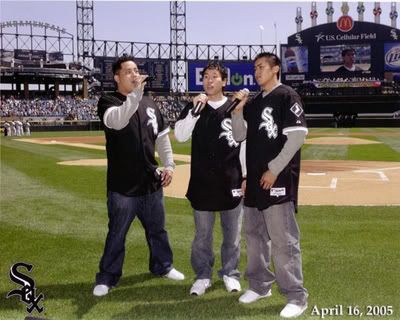 Tommy: To sing in front of 40,000 plus people is always exciting and to hear the roar of a crowd that big after we sing is an unforgettable experience. One time, navy jets flew overhead after we sang, and one time the navy seals parachuted on the field. We've sang the National anthem 12 times since 2005 and we are always excited to go back.
Have you guys been able to meet any of the players? If so, how was it?
Mike: We meet them on the way to the field. They know us by now but things get very hectic just before a game so we don't really chat with them in length but on our second time, they had a short ceremony after we sang. A UPS truck went around the field and stopped by where we were and delivered a package to us and in it was a baseball. As soon as we opened it, Manager Guillen came up and signed the ball and all of it was shown on the big screen in the middle of the field.
I'm from San Francisco and we love Barry Bonds. What do you guys think of Bonds?
Mike: Not very familiar with Bonds. But we know he's about to become baseball's homerun king!
What are IBU's goals for the upcoming future?
Jonathan: Just take it a day at a time. Our music has become a business and we sometimes need to slow down on performances to take care of business and the creative side of being IBU. One thing for sure, there's alway something exciting happening to us. Not always in a big way, but exciting nonetheless. But in the long term, when we're no longer performing, we'd like to be able to pursue music as a business, maybe open up our own studio and help other aspiring artists.
For more about IBU, check out their website
http://www.ibumusic.com
and to check out a recent live performance in Austin,Tx click here
http://famecast.com/contest/webcast.php?stage_id=3&round_id=45