College football is almost here. Here is a interview with Boston College shutdown cornerback DeJuan Tribble. He had 7 interceptions last year and took 3 of them to the end zone. Tribble , a senior, is one of the best cornerbacks in the country and a candidate for the Thorpe Award which is given out to the top defensive back each year. He also made First Team All ACC in all the major college football magazine yearbooks. Look out for DeJuan Tribble this season as I expect him to cap off his Boston College career in fine style.
You guys played so many exciting and thrilling games that came down to the wire last season. What was the most memorable game for you?
Miami was my best game stat wise with 3 interceptions and a touchdown but my most memorable game was against Florida State down in Tallahassee. Playing in that stadium and winning a big game in that hostile crowd is something I will always remember.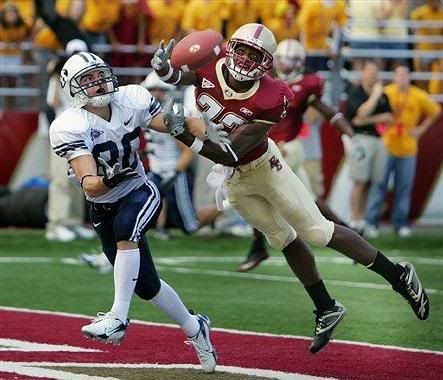 Being from Cincinnati. are you a Bengals fan and how do you think they will do this year?
Yea, I've always been a Bengals fan growing up. I'm sure the offense will put up points as usual but the D should be much better than last year. I'm saying they go 11-5.


What presents more of a challenge to you? A receiver who is a speed demon or a receiver who is tall and lanky?
I will say a speed demon simply because it's tough getting good jams on faster and athletic guys. The taller and more lanky guy is usually easier to get more physical with.


You also played quarterback in high school and also was a punter. Do you ever want to go back to playing any of those positions?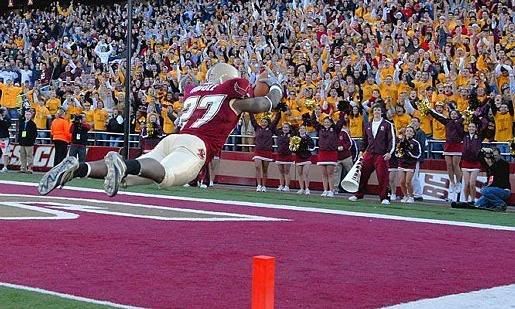 I have no plans on that at all. I've been playing cornerback since I was 7 in Pop Warner football and that's all I can see myself ever playing although I do miss running the option a little in high school.
Do you have any pre game ritual?
I usually just listen to music and then do an individual prayer before I take the field.
What type of things do you like to do to get prepared for a game?
I usually get a lot of film work in before every game. Studying your opponent only makes the game a bit more easier. I like to get down some of the offensive tendencies and see how receivers look running routes.

What are your goals for this upcoming season?
I've put aside individual goals for this season. Usually I have a set number on how many picks I want to get each year. This year I'm more focused on bringing an ACC championship back to Boston.
What do you like to do when you are off the field?
I like to just go to movies or just kick it with my crew. If I'm home, I'm usually playing video games.
Who are your favorite rappers?
Lil wayne, Young Jeezy, T.I., Young Buck
What are your favorite tv shows?
Sportscenter, 106th and Park, Martin, and Bill Cosby


What players in the NFL do you look up to and why?
I like the game of Champ Bailey. He shuts half the field down by himself. Quaterbacks don't even look his way out of respect for his game.
Anybody you like to give a shoutout to?
To my mom Victoria Tribble and all my peoples in Cincinnati. And anyone who supports Boston College Football.