With so many MMA clothing/gear companies sprouting up these days, it is hard to separate one company from the next. A MMA clothing company that is standing out is Dominance Fight Gear (DFG). Check out this very informative and interesting interview with the guys from DFG as they talk about their company's interesting philosphy, how they stand out from other MMA clothing companies, and the popularity of the UFC.
How did you guys get started as a company?
Basically, as rabid fans, we just wanted to be closer to the sport. Not being of the age or talent level that most shows look for regarding fighters, we thought a clothing/gear company would be a great option. We literally came up with the idea at a UFC event at Mandalay Bay. The following Monday we were filing for permits and licenses.
There are so many MMA clothing companies out there right now. What seperates Dominance Fight Gear from the others?
GREAT question! Early on, we recognized the fact that MMA based clothing wasn't an original idea. We needed to stand out, and be different so we decided that we would only sponsor fighters that have won three fights in a row, or are champions of their weight class. We came up with the criteria after extensive research and discussion. It is by no means perfect, but what it does represent is that when you see a fighter walking to or stepping into the cage wearing the DFG logo, they're bringing their "A" game. We run ads in all the big trade publications promoting our philosophy and the response has been overwhelmingly positive. The downside to our philosophy is that we have to drop a fighter when they lose a fight. Sometimes this is a VERY difficult thing to do.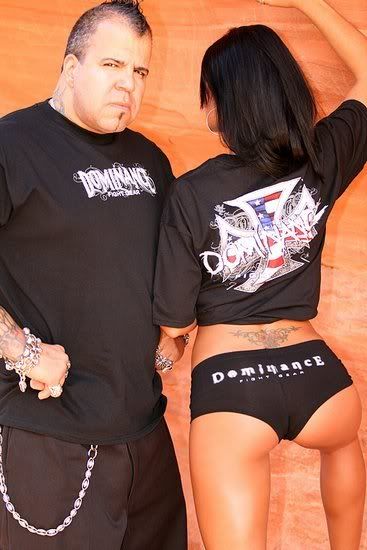 Dropping fighters if they lose is quite interesting since there are so many upsets in MMA lately. It is very bold of DFG to have that policy. How have fighters reacted to your policy?
You know, it's funny... the fighter that meets the criteria is literally honored to wear the DFG logo into the cage. They know not just anyone can be sponsored by us. The fighter that does not meet the criteria sometimes express frustration when they are rejected by us. Ironically, when they do qualify for sponsorship, we get a call the next day... literally! On numerous occasions, we have gotten phone calls from an excited fighter or manager 12 hours after the fighter's third consecutive win. We'll ask them where is the next fight and who they will be fighting, etc. They won't have the answer to these questions yet, but they want to wear the Dominance name. It really is a badge of honor. Also, the fighters we sponsor know the deal going in. Sooner or later, most fighters and sponsors part ways. With DFG, you know the deal when you sign the contract. We continue to renew sponsorships with all of our fighters who keep their victory streak alive. To date, we have not dropped a fighter "just because."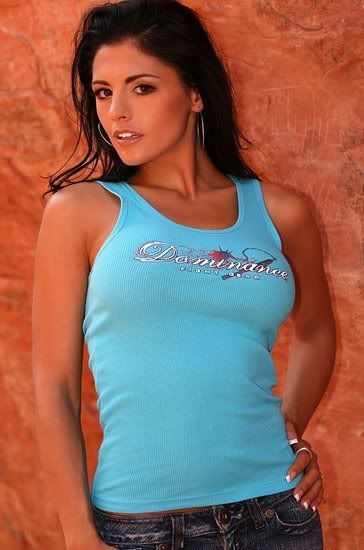 Who are some of the fighters that you have sponsored and are currently sponsoring?
Currently we sponsor Jake Shields, Gilbert Melendez, Carlos Condit, Clay French, and Alex Karalexis. We just signed a kid named Brian Bowles out of Athens,GA. He is just 3-0, but very strong with an incredible heart. He fights for the WEC in December. Some of our past sponsorships include Brock Larson, Joe Doerksen, Micah Miller, and Jeff Bedard to name a few. We are working on several others, and we'll post the news on our website when we have confirmation. We update the "News" portion of the website every other day.
Where can fans buy your clothing and gear?
Dominancefightgear.com is our home base. We're out of Las Vegas. We are in numerous retail locations as well as in Las Vegas at Xtreme Couture, The Squared Circle, and Fight Club. You can also find our clothing at Hit and Submit Fight Shop in Upland,CA, The Octagon in Medford,OR, Extreme Fight Gear in Longview,TX, and Damage Inc Fight Wear in Corpus Christi,TX. Lately it seems like we have been adding a new retailer every couple weeks or so. We have many more that we're in discussions with. Stay tuned! We also do 6-10 shows a year in which we set up a booth and sell DFG.
Can you tell us about the hot model featured on the website?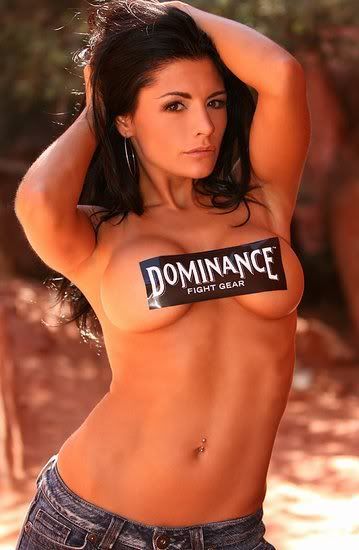 Vanessa Raia... great girl... making a long story short, we saw her at the gym one day. I remember thinking she would be great as our new Dominance Girl, but I didn't do anything about it. As the shoot date moved closer, we couldn't find that perfect model that we were looking for. I figured I would keep my eyes peeled at the gym the next day, and approach the previously mentioned girl if she was there. No luck. I went home afterwards and got on Myspace to look for a model. Eventually, I found a girl with the perfect look and exactly what we were looking for. As I scrolled through her photos, I thought she looked familiar. It was the girl from the gym! It turns out she actually was a professional model so I sent her an email... and here we are.
There have been many fighters lately that have been suspended for illegal substances such as steriods and marijuana. If a sponsored fighter was suspended for these types of drugs, would you consider dropping them?
In our sponsorship contracts with each fighter, there is a paragraph that gives us the option to back out based on questionable behavior. It really has to be a case by case thing. Unlike our "three consecutive wins" philosophy, there is much more ambiguity under these types of circumstances. The whole Sean Sherk situation has become a mess. It would be difficult to drop a guy like Sean as he is an incredible athlete, a great ambassador for the sport, has a work ethic second to none, and he emphatically denies the allegations. We know they just delayed the hearing, but hope they clean it up quick.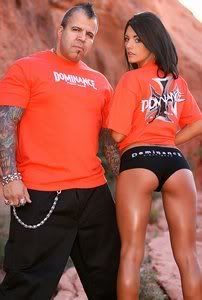 Do you guys attend all the UFC and WEC fights when they are in town?
Yes, Zuffa gives us free tickets to all their events! (laughs). We have attended all the WEC events since Zuffa brought them to Vegas primarily because we sponsor a lot of fighters in the WEC. We attend most of the UFC events that take place in Las Vegas unless we throw a party for our friends and staff at the DFG headquarters.


What has been the best fight you seen in person?
The best fight in person? Well, we did see the first Griffin vs Bonnar fight. That was pretty incredible. Also, UFC 52 where Matt Hughes came back from almost being knocked out and choked out Frank Trigg. Those two come immediately to mind.


Do you think the UFC can hold on to its current popularity after losing out on Fedor and now losing Randy Couture as well? Chuck Liddell isn't getting any younger, Tito Ortiz is doing reality TV shows, and Rich Franklin is no longer a contender for the title. Is the UFC ship about to sink?
In order for the UFC to stay on top, they have to continually bring in fresh talent that people care about. Forget about several of their recent Pride signings for a second. The Ultimate Fighter (TUF) has worked as such an incredible tool for them. Let's pretend TUF never happened... albeit difficult to do, imagine the UFC without the Griffin vs Bonnar fight, Keith Jardine, Diego Sanchez, Josh Koschek, Kenny Florian, Rashad Evans, Michael Bisping, Chris Leben, and let's not forget Matt Serra and the feud he created with Matt Hughes. The UFC could not have dreamt up a better marketing tool. Boxing has become "yesterday's news" because there is no fresh talent that people care about. Name a boxer who wasn't around five years ago. Anyone come to mind? No. I believe the UFC will always be to MMA what Las Vegas is to gambling. There will be other fight leagues out there , and other cities to gamble in, and they 'll have a draw but like it or not, the UFC isn't going anywhere nor is Las Vegas!
Of all the new MMA promotions out theres such as the IFL, Pro Elite, Strike Force, and M-1 Global, which one do you think has the best chance to compete with the UFC and give them a run for their money as the #1 MMA company in this country?
They all have the potential of doing well, but I don't think anyone is really going to compete with the UFC for years. Most of it comes down to marketing the talent you have. Name 10, or even five fighters who fight in each league you mentioned. Many MMA fans can tell you 10 guys in the welterweight division of UFC alone! That's the difference. You can't underestimate the UFC's depth. Given the ranting, it probably sounds like we have ties to Zuffa, but we don't. Just calling it how we see it.
What are the future plans for DFG and what is coming up?
Tons of stuff. Like most businesses, we have to continually evolve to stay competitive. We just started doing giveaways and updating the "News" portion of the website regularly. We do this every other day. We ask a trivia question, you respond first with the right answer, you win a prize. We continue to expand our retail distribution every month, and we'll be in some major chains soon. We have no fewer than 10 new items in the works that will be available on the website as early as November 6. We just submitted our Holiday ad campaign to all the major publications, and we're stocking up for the Holiday season. We are in talks with a half dozen big name fighters regarding potential sponsorship deals, and we're starting to prepare for the two shows we are doing in December. Short answer; Expand, Expand, Expand!


Thanks for your time and I look foward to seeing more products from DFG and also seeing which fighters you guys sponsor in the future.
Thanks for having us on. If any of your readers place an order on our website for $20 or more, and mention " D Wizzle's World", we'll throw in a free beanie!