We have a new interview with a good friend of D Wizzle's World, Derrick Doggett. Doggett is a senior linebacker for the Oregon State Beavers. He was one of the best linebackers in the Pac-10 and capped off a great career by receiving the Defensive MVP Award in the Emerald Bowl in San Francisco. You can expect to see D.Dogg play on Sundays next season.
What's up D. Dogg? How is everything with you?
Everything is going well. I am just spending time with my family before I start training for the NFL. I'm just real excited about everything that is going on in my life and ready to give my all for a childhood dream that I have had since I was seven years old.
You guys played so many great games this year including that win at Cal when they were ranked #2, the Civil War victory, and the Emerald Bowl win. What was your most memorable game this season?
I would say my most memorable game this season was winning the Civil War in Autzen Stadium. The game went to a 2nd OT, and we ended up getting our first win in Autzen in a long time.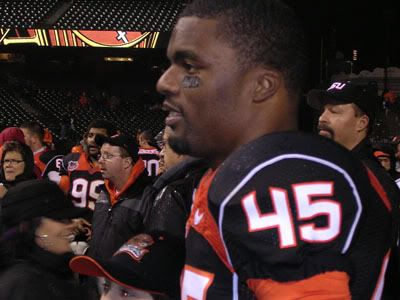 Are there any NFL players that you pattern your game after and why?
I always have had two favorite players and they are Deion Sanders and Ray Lewis. I always loved Deion's swagger and his playmaking skills that he brought to the game. I love the way Ray Lewis plays with passion, and the leadership he brings to his team. They are always the players that have to be accounted for when you are playing against them because of their playmaking abilities. These are two players that I have always watched while growing up and wanted to pattern my game after so I take a little from both of them.
Are there any guys on the OSU defense that you expect big things from next season?
I expect big things from the whole OSU defense because their are all kinds of playmakers on this D-Unit. At OSU, we all learn from the great players that we have had around us during the time we are here, and I expect it to keep recyling each year just like when I first came to OSU. So expect big things from the whole defense!
Did you enjoy your week in San Francisco?
Yes, I enjoyed my time in San Francisco because it's a great city and there are many things to do. I had a great time out there and hope to go back again one day.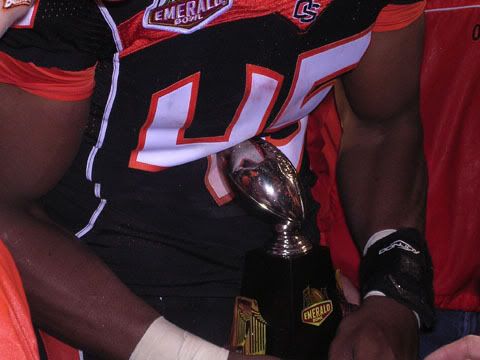 With the Emerald Bowl MVP Trophy
What activity did you enjoy the most? The trip to Alcatraz, the 49ers game, or the video game challenge?
I enjoyed the 49ers game the most because I had never been to one of their games. Being able to watch Patrick Willis live in action was a great opportunity for me to learn things from him and add more tools to my own game.


Are you playing in any of the postseason all star games?
I wil be playing in the Hula Bowl.
Of all the players you played against in your four years at OSU, which opponent impressed you the most?
It would have to be Marshawn Lynch from Cal who is now with the Buffalo Bills. He is a great overall running back and can do it all. You just don't see great players like that all the time.


Thanks for the interview and do you have any final words for everyone out there?
I just want to thank all my fans and the whole Beaver Nation for everything that they have done. I appreciate it all. Thank You
!

Emerald Bowl Pictures and Videos are here
Emerald Bowl