D Wizzle's World talked to Strikeforce fighter, Miesha Tate, earlier this week. Tate is one of the most popular and talented  fighters out there when it comes to women's MMA. She is a fan favorite and has been  previously featured on this site  as Hottie of the Week. Tate's  Hottie of the Week feature continues to be one of the most popular links  on this site. 
Tate was supposed to fight Kim Couture on May 15 on Showtime as part of the Strikeforce Challengers show,  but Couture withdrew from the fight recently. Tate's new opponent is Sarah Kaufman, a tough Canadian with an 8-0  MMA record.  Tate is 6-1 and is the current Freestyle Cage Fighting 135 pounds champion.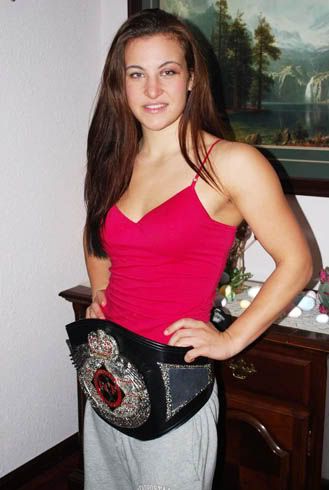 Hi Miesha, are you ready for your fight against Sarah Kaufman next week? What do you know about her?
I am ready!! I'm very excited about it the closer it gets.  At first, I wasn't sure what to make of  it, but now I'm just really happy for the opportunity,  and I can't wait for the fight to happen, I think it's a total blessing in disguise! I know she likes to strike a lot from all positions, and all I can say is sometimes your best defense is offense so I'm sure you can expect to see a lot of punching. (laughs)
Both Kim Couture and Sarah Kaufman are stand-up fighters. Does this help out in preparing for Kaufman since they both like to stand and bang instead of taking it to the ground?
Yes, although I think Sarah is more developed in her striking ability.
It looks like Kim's reason in pulling out of the fight was because she has marital problems with her husband,  Randy. How disappointed are you with not being able to fight Kim? I know you were excited about fighting her.
I was very excited to face her and I should have known it was too good to be true! (laughs) When I called Kim out,  we had almost similar records.  There was like only one  fight difference I believe,  but I stayed so active that eventually I grew to be 6-1 and thought she'd never want to fight me, but she took the fight and then disappointingly backed out.
If the roles were reversed, and you were the one having relationship problems with your significant other, do you think you would pull out of the  fight too,  or do you think you would be abled to stay focused and train for the fight?
Well,  I still don't know if that is her reasoning 100% because  there has been a lot of speculation, but if I were in that situation,  I think I would be more apt to fight because it is an outlet, but if it is true,  I would imagine it would be different because of the business end of it.
Everyone expects Gina Carano and Cyborg Santos to fight eventually at a future Strikeforce event. Who do you think would win this fight?
That's  such a tough one.  I think Gina has more technical standup,  and she picks people apart well,  but Cyborg  is so athletic and fights so wildly,  it's hard to have time to pick her apart, and she is very conditioned and explosive on top of that. I also think Gina's ground is underestimated,  but I still think Cyborg is better on the ground; makes for a great fight! I'd love to watch it and find out!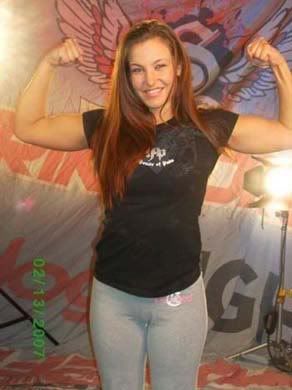 You have been working with a new personal trainer.  Are you working on a specific area  such as your core or are the workouts geared toward  every part of the body?
Yea, Jody Dolphin is his name, and we work  on everything. I have been really focused on overall strength this time. I've been incorperating more weight lifting and resistance training so I can be more powerful in my fights.  I've also been conditioning my legs more so I can power through shots or defend shots better. I have never done so many squats in my life!!
Sounds like the workouts are  tough and grueling. What is the toughest exercise that Jody has put you through?

One of my hardest days was the first leg day.  I did squats, high jumps, and sprints with a band around my waist and him pulling me back until I couldn't go anymore. Total muscle failure, it was crazy. We also do a lot of circuit training much of which is strength focused, and he has a very good way of incorperating the workouts so they cater to MMA.
Thanks Miesha for your time. Good luck next Friday. Any final words for everyone out there?
Thanks for everyone's support, I can't stress how nice it is to know that people are backing me through everything. A big thank you to my family, friends, trainers, and sponsors for the everyday strength and motivation they provide me with. You guys rock!