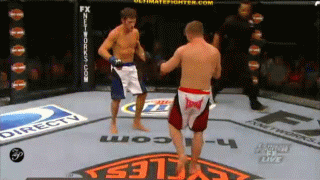 Here is the video of the highlight-reel head kick by Justin Lawrence to knock out John Cofer at the UFC show "The Ultimate Fighter Live Finale" in Las Vegas last Friday night.
The incredible knockout happened in the third and final round of the fight. Lawrence was awarded "Knockout of the Night" as well as "Fight of the Night."
Lawrence definitely will fight again in the UFC and the future looks bright for the 22-year-old fighter if he continues to deliver knockouts and wins.