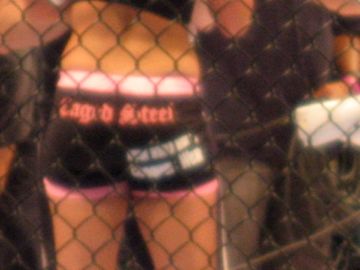 Miesha Tate's shorts being sponsored by Caged Steel
During the UFC 149 post-fight press conference Saturday night in Calgary, MMA fans watching the video feed online noticed a MMA media member taking a picture of what appears to be Miesha Tate's backside.
MMA fans were praising Tate's glutes all night long on Twitter when they saw her cornering her boyfriend Bryan Caraway in his fight on the prelims which was broadcasted on FX.
It's one thing for fans to admire the former Strikeforce champion's backside but it is clearly inappropriate for a credentialed member of the media to try to take a pic of Tate's anatomy when she is not looking.
I have covered many Strikeforce shows in the past and I have seen unprofessional behavior by credentialed media members quite often. I have seen media members drink alcohol at press row and cheer on their favorite fighters.
Take a look for yourself to see if you think the journalist took a picture of Tate's backside or not. The GIF is below and the video is as well.
The accused media member writes for a website called MMASucka.com and has denied taking the picture of Tate's behind. The writer also stated on a popular MMA forum that he has reached out to Tate to apologize and that he apologizes for his brief lapse of judgment.