Big Fav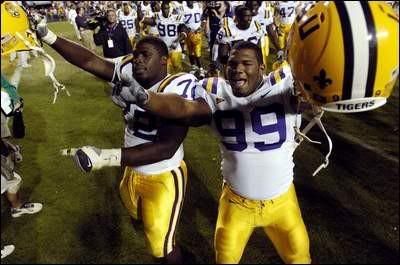 Marlon Favorite
Football season is almost here. Here is a interview I did with LSU defensive tackle, Marlon Favorite aka Big Fav. Big Fav is not just a fine athlete but also a talented music artist. He is a a key member of the #1 D line in college football and also a member of the rap group "Black Vynm."
You guys lost a lot of players in key positions who entered the NFL draft such as Jamarcus Russell, Dwayne Bowe, and LaRon Landry. Is there a lot of new talent waiting to fill their shoes?
On both sides of the ball I see growth in a lot of players so I'd keep my eyes open.
How has Bo Pelini, the defensive coordinator, contributed to the success of the defense?
He contributes a great deal. Coach Pelini is a extremely good defensive coach and it's a pleasure playing for him.
What has been your FAVORITE moment so far in your career?
I have a lot of those but the greatest moment was playing in the 2007 Allstate Sugar Bowl in New Orleans,LA. My hometown New Orleans stand up! My city showed me and my team a lot of love and I appreciated it. I love you New Orleans.
What game are you looking forward to the most this season?
Alabama you already know!!!
Besides you, are there any other rappers on the team?
Alley Broussard and Kirston Pittman or as we say Alley Cat and Pitty Da Kid!! I've actually collaborated on a EP with Kirston last summer called "Hip Hop & R&B." I was singing on that one, well at least trying, but it sounded good!! Me and Alley coming out with a mixtape called "LSU Boyz" this fall and it gon be hot.. y'all be on the look out!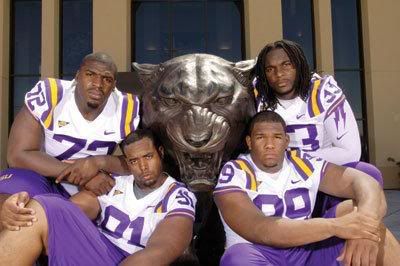 #1 D Line in College Football
Is there any significance to you wearing #99?
My big brother Mel wore that number in high school.
The media says America hates Barry Bonds. What are your thoughts on Barry Bonds?
No comment.
Tell us about your rap group and how you guys got your name "Black Vynm."
Cool, the name"Black" stands for the struggles, hard work, and things we experienced in our life and the "Vynm" is for when we spit it to y'all!!! We've been a group for 4 years now and me and Chay Dutch (Chad) been like fam since 6th grade. Me and Young Phat found out we were cousins in high school and it just so happened we were already cool outside of where we all originally knew each other from so o it was all good when we clicked on the music. Be on the look out for our 2nd LP " Certified Hustlas" set to release late 2007 or early 2008.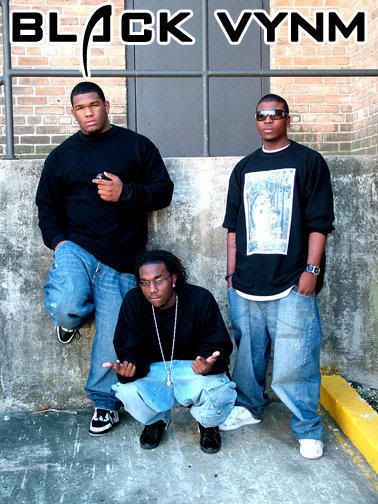 Who are your musical influences?
Lil Wayne and the whole Young Money team, my homeboy Baby Boy, he show us mad love. Westbank stand up! All past, present, and future Louisiana artists keep bringin that heat ya heard me!!! Outside of Louisiana, the big homie Jay-Z, 2 Pac, Biggie, T.I., Young Jeezy, Outkast, Dipset, and a whole lot of others. Be on the look out for our Black Vynm lil homies Something Serious we on the come up... Westbank Stand up.
What separates Black Vynm from other rap groups and where can we get a hold of the album?
We are very versatile and we bring a variety of sounds. Our sound is real hot. Once again go cop that "Certified Hustlas" late 2007 or early 2008. It gonna be hot... and you can hear and download our music at
www.myspace.com/blackvynm
or
www.myspace.com/youngphat
and you can get our first LP "Sophisticated Hustlas" at
www.gauntletrecords.com
. Get at us people! You can also contact us at those websites. Holla at us ya heard me
!!