KNOXX spokesmodel Alexia Lei
I recently spoke to Damon Gee from the clothing line KNOXX. Here is the interview. To learn more about KNOXX,check out their official website. KNOXX GEAR


Hardcore Fighting Secrets Revealed!

Damon, Please tell us all about your company, KNOXX.
KNOXX is a design company that markets casual and sport apparel worldwide.. We support and sponsor people that participate in extreme sports and entertainment.


How did KNOXX get started?
There are 3 guys that started KNOXX and each of us have different roles and responsibilities in the company. I train in martial arts also so I knew a lot of people that are in the fight network and industry in Northern California. Everyone I knew always talked about how no one was able to find cool clothing that catered to the fight scene so using my knowledge of marketing and business management, I decided to form KNOXX to create these products for these people. Each partner had different views and backgrounds so our company eventually evolved to also support other sports and entertainment. My partner and artist, Al Calmerin aka Sketch,was heavy into the skateboarding and Hip Hop scene and he had did a lot of work with many skateboarding and street wear brands as well as in the Hip Hop industry. My other partner, Alan Palomares,was the one that was familiar with clothing production and sales of clothing from his previous jobs and also managed music bands. So we basically combined our love and passion of all our interests and decided to put it in our clothing to express that.
Knoxx strongly supports the sport of mixed martial arts. How did that come about and who are some of the fighters that are currently with Knoxx?
We love the sport and using my network in the fight scene, we decided to form KNOXX to help promote the growing sport. We have sponsored a lot of fighters to support them in their careers since we started KNOXX. There are too many to name off but we currently have great relationships with these fighters and we are really supportive of their careers. They are: Josh "The Punk" Thomson, Cung Le, Paul "The Head Hunter" Buentello, Nam Phan, Elaina Maxwell, Sam Spengler, Zachariah "Iron Monkey" Yngojo, James Terry, Jose Palacios, Travis Johnson, Anthony "Rumble" Johnson and Cung Le's USH Fight Team. We seem to be adding and supporting new gyms and upcoming fighters on a monthly basis.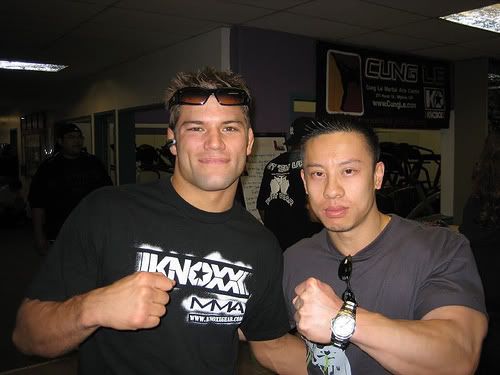 Josh "The Punk" Thomson and Will Lee
Where do you see KNOXX in the next few years?
We want to continue to create appealing designs and increase our worldwide distribution. We will continue branding to the mainstream audience and at the same time hit our current boutique market with limited issues. We will continue to sponsor and support our current fighters and personalities. We also want to continue to sponsor developing fighters and work with select MMA gyms.
Where can we purchase KNOXX clothing?
The best place to purchase KNOXX is at www.knoxxgear.com. We have a new website coming out hopefully within a month and you will see a lot of new products and designs. We are also sold in many gyms, other online stores like www.fightshop.tv, and street wear boutique shops. Our products are in locations that pertain to the styles and designs so it varies a lot. Our KNOXX MMA clothing line is sold in gyms and mma related stores while our KNOXX Lifestyle clothing line is sold in street wear stores and boutiques. We have products that are limited production for certain stores and some of our items are available exclusively online.
Who are your favorite MMA fighters and why?
I really don't have a favorite MMA fighter but I enjoy watching all fighters. I'm also a little biased because my favorite fighters are all the ones that work with KNOXX.
I have seen many of the shirt designs and they look really nice. Who designs the shirts?
I want to first say thank you for the kind words. We love to hear that people like and appreciate our designs and clothing. Our main designer and art director is my partner, Al Calmerin. He has been doing artwork and designs for mainstream brands, smaller underground skateboarding companies, street wear brands and music companies for over 13 years now. There's a very good chance you may have seen his past work already from his past employers and not even know it was designed by him. A lot of those companies and publications have blown up and are now recognized brands. We also work with a select and expanding group of designers. These designers either submit work for review or take an idea for a design on commission. In order for a design to make it into production all three partners have to agree it is worthy. We know everyone has different tastes in clothing so it's impossible to try to cater to everyone but hopefully the different views from the three partners allow us to provide the consumers with something they like.
There are a lot of MMA clothing brands out there. What sets KNOXX apart from other clothing companies such as Tap Out, Sprawl, and Affliction?
We don't consider KNOXX a mma company since we do not manufacture or design leather goods like gloves, kick pads, headgear or any other protective gear. We also do not have GI's, rash guards, hand wraps, ankle supports or a large variety of fight shorts to be considered a mma clothing brand even though any of those mentioned items might be made in the future. We consider ourselves more of a design company that markets casual and sport apparel. All the brands you just mentioned are all very different and unique in their own aspect and if you look at our clothing I think our look is fairly different than theirs.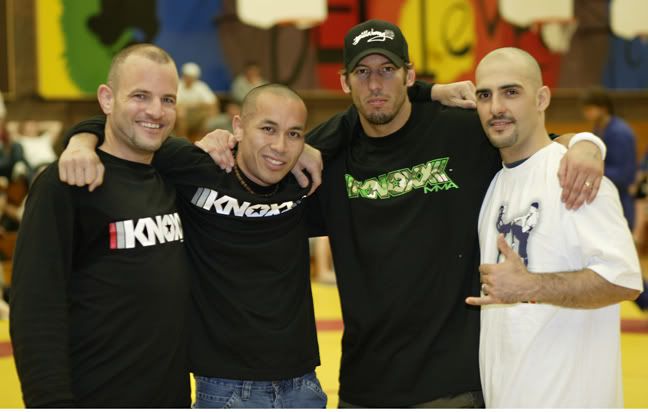 I heard about Knoxx sponsoring events with the local hip hop station, Wild 94.9 and also with Bay Area DJs, DJ Ajaxx and DJ E Rock. How did that come about?
My partners and I are all music lovers and we listen to all genres of music so we want to support the DJs' that we relate to. We just feel that the DJs' are underrated when it comes to their work in the music industry so we want to be there to promote and support them. We currently support and sponsor four DJs' which are DJ Zhaldee, DJ E-Rock, DJ Ajaxx and DJ J-Boogie from Canada.
As for Wild 94.9, they are one of the radio stations that seem to support mma and they are usually at the local fight events like Strike force to help promote, take pictures ,and provide media coverage for those events. They were referred to us by DJ E-Rock and wanted to support KNOXX because they liked what we are about. We are very fortunate to have such a huge radio media company to support us. KNOXX currently designs their concert tee-shirts, their promo shirts, and their street team jackets and shirts. We also helping DJ E-Rock with his street wear clothing line that is coming out soon called Solid.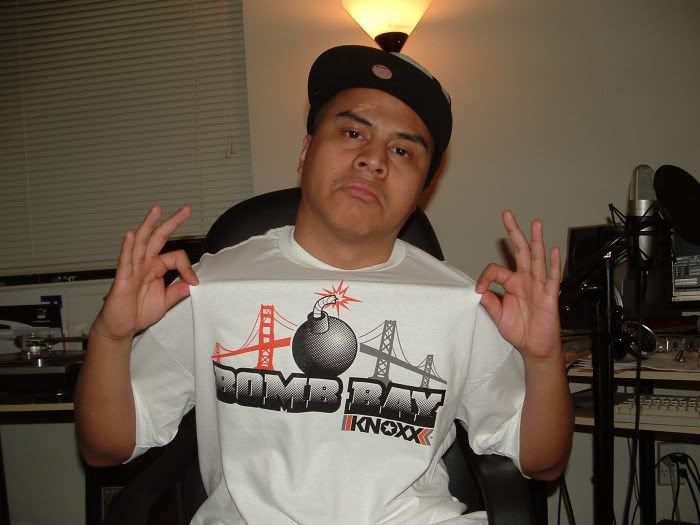 DJ E ROCK
How important is it to sponsor fighters?
Right now mma is still a fairly new sport and not everyone is watching it yet or know much about it. They are professional athletes just like football players, baseball players, basketball players, tennis players, golfers or any athlete of any mainstream sport but yet they are still fairly unrecognized or accepted. I think sponsoring a fighter is important because a lot of them are not making the type of money other professional athletes in other sports are making yet. Many of them have a job or numerous jobs while trying to train to become successful in their careers as a professional fighter which makes it really hard for them. KNOXX tries our best to support and sponsor our fighters to help them out in their mma career so they can be the best fighter possible. We also promote and market our fighters to increase their current fan base.
What is coming up for Knoxx?
There are many new things coming up for KNOXX. We are currently revamping our web site which we are hoping to be finished within a month. We are creating new designs and doing some shirts in collaboration with some skateboard companies and street wear companies. We are doing some shirt designs for many gyms in CA and working on marketing and more ways of promotions for KNOXX. There's probably a lot of other things I may have forgotten to mention but just be on the look out for a lot of new things from KNOXX soon. You can check out our photo gallery at http://gallery.knoxxgear.com to see some of the things we are up to.
Tell me about Alexia Lei and KNOXX's relationship with her.
Alexia Lei is a model and go-go dancer who is fairly well known in Southern California. She started her career as a model for the import car industry and because of her exotic beautiful looks, she quickly gained a huge fan base. Her popularity as an import model landed her great paying jobs dancing at clubs to help with the promotions of the venues. I was referred to Alexia Lei by my good friend Cora Linn that owns www.redkisses.com. I told her I was looking for a spokesmodel for KNOXX and I personally thought Alexia Lei was very attractive and I thought she would be perfect to represent KNOXX. KNOXX is also helping her with her own clothing line which will be coming out really soon called Ambition.


You know many MMA fighters and hang out with them often. Do you have a funny story or a story you would like to share with us?
I really don't care to share personal stories about the fighters' private lives. What I can say is that a lot of fighters are really cool down to earth guys. They are just like everyday people just like you and I but they are professional athletes that are paid to fight other people for a living. How the public perceive them inside the cage is probably totally different than how they really are outside the cage.
I know you used to train in Muay Thai. Are you still training in Muay Thai?
I'm currently not training at the moment since I was recovering from a leg injury. I'm pretty much almost all healed now but my hectic schedule is keeping me away from the gym. I know its probably self made excuses and I should get my butt back inside the gym. Its really hard to get back to the old training routine when I have taken such a long time off. I think I should try to get myself back inside the gym and train next week now that you mentioned it.
You have fought in the cage once. How did that come about and how did you do?
I never saw myself as a professional fighter nor did I ever want to be one. I trained for a little while and I just wanted to see how I would do inside the ring so I entered myself in a local event. I also wanted to just experience the feelings that a professional fighter would have when they are competing. Surprising, I did quite well and I loved the excitement and the feeling of the adrenaline rush so much that I started right away to train for my second event. I watched myself in the video of my fight and tried to analyze my mistakes and weaknesses and I trained 3 hours a day, 4-5 days a week. Unfortunately two weeks before my second event I was in a sparring accident that injured me for a pretty long time. So that was the end of that one and soon right after that I decided to start KNOXX and I got way too busy.
Any plans to compete and fight in the cage in the future?
I don't think I have the motivation or the time to train enough to fight again in the future. I think I rather be a spectator now and just enjoy the sport.
Tap Out is a very successful MMA clothing company in the UFC. What makes them such a popular and successful company?
Tap Out has been out for a very long time now. I think they were the first company that supported the sport and they paid their dues. I think Spike's Ultimate Fighter season one finale was what made them popular with the fans.


KNOXX clothing is for the "renegade lifestyle." Please define "renegade lifestyle."
Our clothing is inspired by what we call the Renegade Lifestyle. We
thought about what would still be considered a renegade in our current
society What came to the forefront were fighters, DJs, models, skateboarders, surfers, artists,
Go-Go dancers, and extreme sport athletes. All these occupations were frowned upon by our parents
which was followed by a slap upside the head.
KNOXX creates and designs products for people that want to be
different, dare to stand out, and also look good living life.
How did you come up with the name"KNOXX" for your clothing line?
My partners and I wanted a name that is unique and can be easily found when you type KNOXX on the web search engines. It also resembles the word "knocks" like how a fighter can knock out his opponent or how a DJ makes his beats knock. It really doesn't have a real meaning and its just a name of our brand.
You have been to many mma events. What was your favorite event that you have attended and why?
I personally enjoy a lot of the smaller local fight events in Northern California because you see how the excitement is from the friends and families of the fighters that are competing. I've been to all the Strike Force MMA events and I love them because they put on great shows with great fighters.
What is your prediction for the August 25th UFC championship fight between Randy Couture and Gabriel Gonzaga?
I'm a fan of Randy Couture and I respect him for all the things he has accomplished for himself and the sport. I would go with Couture as my prediction.

Thanks for taking the time to answer these questions and giving fans insight and information on KNOXX and mma.
You're welcome. It's been fun and I enjoyed it. Thanks for the support!