D Wizzle is back with a new interview and this time it is with MMA fighter and Team Quest member Gabe "Godzilla" Ruediger. Ruediger, as most know, was the star of last season's
The Ultimate Fighter
(TUF) TV show. His antics on the show caused major controversy among both fans and fighters alike. Weather you like this controversial fighter or not, no can deny that he made TUF 5 more entertaining to watch for the viewers. With the show being over, Gabe is looking forward to the future and getting his career back on track. Instead of just being known as the outrageous character that he was portrayed as on the show, Gabe wants to be known as a talented fighter. Check out this very interesting and informative interview.


You fought about two weeks ago. Can you tell the fans how you did?
I won in the first round by choke. I initially was mounted in the first minute and went for an armbar. My opponent (George Kassimatis) and I both went threw the ropes and we were stood up. In a little less than three minutes, he tapped out. It wasn't my best performance, and I had some ring rust, but I walked out unscathed and ready to fight again.
The fight was in a ring. Do you prefer fighting in a cage or a ring? Any big difference?
That was my first time in a ring. I actually prefer the cage. The action stays constant regardless of the position you are in. Being my first fight in a ring, it might have just been about getting a feel for it, but I prefer the cage.
What is your entrance song when you walk to the cage and why did you pick that particular song?

The Song is a Godzilla Remix of "Turn to Ghosts" by Damnation A.D. I've actually known members of the band for a long time and they were kind enough to do a remix. As far as the reason, it's a great song and there are Godzilla roars.

What did you think of the Hendo/Rampage fight?

I hated the outcome, obviously. I trained in the room with Dan and he looked great in preparation. I really felt the fight could have been a draw - rounds one and two to Dan, three and four to Jackson, and the last round a draw. I'd love to see a rematch.
Who did you think won the Bisping/Hamill fight?
Hamill hands down. It makes the sport and the UFC officials look bad to have such a blatant robbery. One judge gave ALL rounds to Bisping, which was worse than the decision.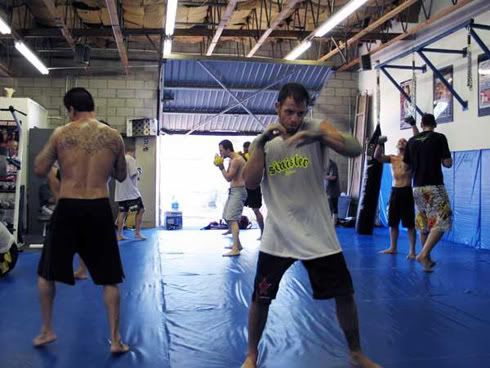 Tell me something the fans might not know about you.
I own more than one suit, but haven't worn any of them in a long time.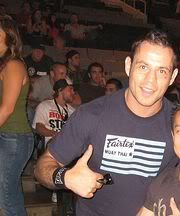 What's next for you?
T
o keep fighting. I'm in negotiations with a few organizations and I'm looking for the proper home. My last fight gave me more incentive to improve and keep pushing on.
I heard that you will be fighting Gabe Rivas at the Cow Palace in San Francisco on October 20. Is this true?
Yeah, I signed to fight, but I haven't heard anything since.
Many fans have ripped on you for your actions on
The Ultimate Fighter
. You wanted to seperate yourself from the other fighters and distinguish yourself and you clearly did that. Do you have any regrets from the show? I think that if people were asked to name a fighter from that season, your name would likely come up first or second.
Yeah, I did a good job of being recognized! (Laughs) I would have taken the fighting portion of the show more seriously. I lost track of that and of all the things, that is my biggest regret. I realize I was painted in a poor light and it might have still came off that way, but I lost track of what I've based my life around for the past five years.


What do you think of the use of steroids and other illegal substances in MMA and have you ever had the temptation to take anything like that?
It's difficult to say. Some of the illegal substances are not of enhancement nature, but I suppose you have to have a zero tolerance policy. This is a professional sport and enhancements are going to be prevalent in it. As far as taking steriods, I have a hard enough time maintaining my weight without that stuff! (Laughs)
How did you get the nickname "Godzilla"?
It's a story I've told in many interviews. Come on man, you were doing so good!(Laughs)
Sorry, but I had to ask you that since I have not seen you answer to that in other interviews. Many fans have asked me to ask you this question as well.
Okay, I was training in Japan with a really small Japanese guy. Some of my Japanese friends were sitting there and laughing. When I got done training, I asked "What's so funny?" They pointed at my arm which has a dragon tattoo on it and said "Godzilla, Godzilla!" I tried explaining that it was a dragon, but they found it amusing and everytime I would go train, they would call me Godzilla. I told the story when I got home and the nickname stuck.
Here are some questions that I got from fans.
What is your favorite dessert?
Not sure... I guess ice cream.
Do you have a girlfriend?
Nope
What kind of girls do you like?
It depends. Is this an interview for a dating site ?
What are your favorite TV shows?
I don't watch a lot of TV. If my TV is on, it's for background noise and most likely a movie.
Why do you continue to entertain the negative attention you get about the cake episode and the "Burger Boy" nickname?
I don't get this question at all. The cake episode was beyond retarded and I've explained only about 5000 times. I did not eat the cake before cutting weight!!!! It was a week or more prior!!!! As far as "Burger Boy" as a nickname, that's a first and it's as stupid as the constant cake comments.
How has sacrificing who you are to gain TV time affect your life?
Can you answer that question? How does it seem to affect my life? Besides my contract with the UFC being canceled, and the really stupid jokes about cake on the Internet, everything is going really well.
Where do you see yourself a year from now personally, relationship wise ,and in this sport?
Weird dating question again. Personally, I'm hoping to be doing whatever is making me happy and enjoying myself like I have been. Relationship - wise , I' m hoping to at the very least have a puppy... literally not figuratively. Career- wise... hopefully back to fighting tough competition and pushing forward.
Thanks for the time Gabe. Do you have any final words for the fans?
I'd like to give a thank you to those that have supported me and the true fans. It's great that you have been there regardless of the crazy way this last year has turned out. My sponsors deserve thanks as well. Fairtex, TapouT, Sinister Brand, Forty Thieves Clothing, and On The Mat. Also, check out
gabegodzilla.com
for more and up to date info.