D Wizzle just finished talking to NFL prospect and former Kentucky linebacker, Wesley Woodyard. Woodyard has been terrorizing SEC offenses for the past few years and now this talented player will be waiting to hear his name called in the 2008 NFL Draft this weekend. Woodyard is from LaGrange, Georgia and led the SEC in tackles in 2007.
What do you think you will miss most about playing at Kentucky?
I'll miss all my teammates, coaches and the best fans in the SEC who packed Commonwealth Stadium every game.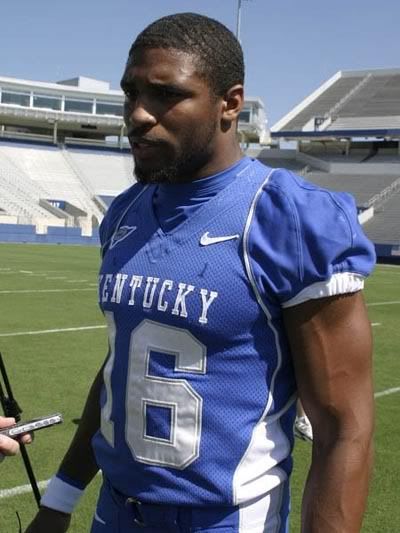 You were coached by the 49ers staff in the Senior Bowl. Did you learn anything from Mike Singletary along with the other coaches?
The coaching style of the 49ers coaching staff was much like the style that my coaches taught at Kentucky. Coach Singletary was very uplifting and encouraging. He told me that I reminded him of himself when he was coming out of college because of my size and my love for the game. He also told me that I would be a great NFL linebacker one day if I kept working hard and continued to love the game the way I do.
Who was the best player you played against in your college career?
I would have to say Ronnie Brown(former Auburn running back and current Miami Dolphin). He made a lot of plays and it seemed as if he didn't need an O-Line sometimes.
What are your plans for this weekend? Will you be watching the draft?
I'll be in LaGrange with my family just relaxing, cooking out, and spending time with family and friends. I don't plan on watching the draft, but I will keep track to see when my teammates, and the players that I trained with and played in the Senior Bowl end up at
.
Your Senior Bowl teammate Heath Benedict untimely passed away last month. Did you get a chance to talk to him or get to know him during the Senior Bowl week?
He was a great person, let me say that first. He could light up the room with his character and sprit and we actually talked and joked a lot down in Mobile at the Senior Bowl. He was a great person to have met
.
Thanks for your time Wesley and good luck with the draft. I look forward to seeing you do great things in the NFL. Do you have any final words?
T
hanks for the time and support, I appreciate everyone who helped me become the young man that I am today.